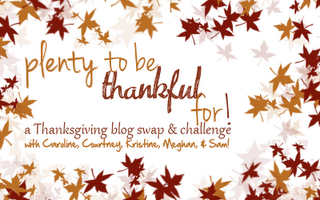 Today's topic for the Plenty to Be Thankful For link-up is the Thanksgiving recipes you are thankful for.
Where do I begin?!
The first thing that comes to my mind is Chad's cousin's loaded mashed potatoes. Now, This isn't really anything NEW to the Thanksgiving world, but I look forward to them EVERY YEAR. They are so much better than your plain jane mashed potatoes and gravy. They have sour cream, cheese, chives, and BACON in them!! (in case you didn't know what a loaded potato involves).
Recipe Here
GBC aka Green Bean Casserole.
I had never been exposed to this miraculous dish until a few years ago when a friend of mine made me an individual serving upon hearing about my sheltered green bean life.
OH MAH GAWD. Now, don't get me wrong, I'm not a veggie hater by any means. But I definitely go for the other stuff first when it comes to Thanksgiving... the turkey, potatoes, gravy and rolls. Not anymore, friends. Now I throw those green beans on my plate first round.
Recipe Here
Turtle Pumpkin Pie.
This is a good alternative to regular pumpkin pie. It's a bit lighter and adds a little more elements. Pecans, caramel and pumpkin. YUMMERS!
Recipe Here