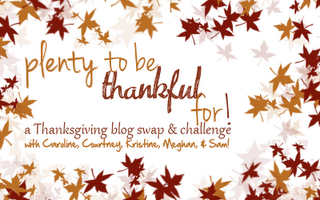 I have to admit that the guilty pleasure that I am most thankful for is McDonald's.
I know a lot of you are probably gagging to yourself right now (which I don't understand, ha), but I can't live without some nugs with some sweet chili sauce for dunk-a-lunkin,
Throw in some of those ah-mazing, salty french fries that all restaurants strive to have but can not come close to, and I'm a happy girl.
And let's not forget about breakfast. There is something about a sausage patty with maple syrup, paired with melty cheese and egg... ooohhhh yeah... talk dirty to me...
So that is my guilty pleasure. Link up and talk about what guilty pleasure you are most thankful for!