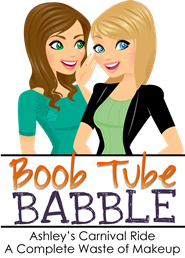 I'm linking up for Boob Tube Babble today, and what I really want to talk about is shows that I don't want to get cancelled, but I really am afraid they will.
First up, Hart of Dixie.
I never hear anybody say anything about this show, which is what makes me scared that it won't make it past it's first season. Which would devastate me.
It has comedy, a little bit of mystery, romance, and a good variety of storylines going on.
So please, go watch it. K thanks.
Next, the Secret Circle.
I love this show because it has a lot of mystery, and magic, and good characters. Great cliffhangers that leave me really mad that i have to wait a week to see what's gonna happen. But I do kind of think that it could run out of shockers eventually and it will just run its course.
Pan Am.
Now, I KNOW this show is getting cancelled. Sad day. I guess it just didn't have staying power. It started with a bang, but I think it just got a little too slow for people to follow it. I mean, it took me a while to get into it, and I can totally understand that it doesn't really have that THING that makes me anxious for the next episode. I'll survive the loss of this one... even though I love Christina Ricci.