I'm linking up for Friday's Letters for the first time today.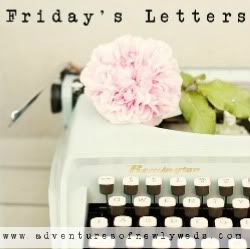 Dear Tina Reale, thank you for the amazing personal training set up. I am seriously feeling the burn and am hoping that I can get my eating habits under control again so this is effective.
Dear Buck, I love how you still act like a puppy when you get excited. On our bike ride the other day, you just wanted to run and run and run and run and RUN. Now if only I could keep up.
Dear potential borrowers, please come in and see me at work. SOON. I'm sorry I complained about being so busy last month, I didn't intend for all of you to just stop coming in, leaving me with nothing to do but nod off in front of my computer every day.
Dear Hunger Games, I wish you would just go straight to DVD so I could see you without going to the theaters. I almost wet myself everytime I see the previews.
Dear Marv, if you could just leave town when you are supposed to, I would really appreciate it. It would save me a lot of unneeded stress.
Dear money, I wish you would miraculously appear in my checking account in large quantities so as to appease the bill collectors.
Dear HGTV, I do hope you pick me for the Dream Home giveaway.