I haven't linked up for Sunday Social for a while, so I thought it was time. Especially because this week it's about books.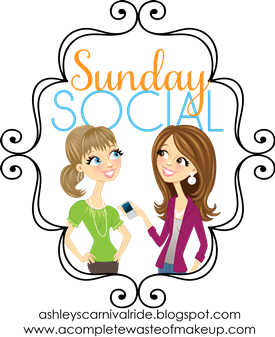 What was your favorite childhood book? Easily the Baby Sitter's Little Sister series. I would stay up way past my bedtime (and get in trouble) reading them a whole book at a time.
Favorite book lately? I would have to say the one that my mind goes to immediately is Beautiful Disaster by Jamie McGuire.
Book you wish you could live in? Hm... Harry Potter. Easily. Better start brushing up on my spells...
If you could be any character from a book, who would it be and why? I would have to say Abby Abernathy from Beautiful Disaster. She is a smart, normal girl, and the love story between her and Travis is great. Every girl wants a guy like him.
Favorite book turned movie? This one is kind of a tie. The Notebook, the Twilight series, and the Harry Potter series are up there, along with (more recently) the Help.
Favorite Magazines? People, Us Weekly, Food Network Magazine, and Cooking Light are ones that I always look forward to... although my finances have made me not renew any of my subscriptions lately.