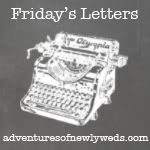 Dear Magic Mike, I am coming for you tonight. Please do not disappoint a roomful of girls on Girls Night.
Dear Christmas decorations, I know I have neglected you this year, but there are things beyond my control that have kept us apart. I promise I will spend some quality time with you soon.
Dear Friday, please go smoothly. The past couple days have taken FOREVER to go by.
Dear checking account, I know you're hungry. But it's the holidays and there's nothing I can do about it!
Dear Secret Santa, you are so awesome for giving me the biggest box of Kraft mac and cheese I've ever seen. Of course it means I'll have to share it, but at least this way I won't have to feel so angry about sharing :)
Dear blog readers, I apologize for the lack of pictures lately, but my current cell phone has a TERRIBLE camera, and I can't find the charger for my digital camera. Sorry 'bout your luck.
Anyways friends, I hope you all survived the week and that you have wonderful, festive plans for this FIRST WEEKEND OF DECEMBER!!!