So WAYYYYY back in October, I signed up for an ornament swap on Erin's blog, and the day has finally come to link up and share what I got!!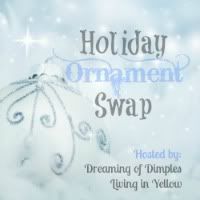 Now this swap was a little different because you are sending to and receiving from two different people, which gets a little confusing.
I sent to Carrie (she's pretty new to blogging, so go show her some love and check out the ornaments I got her) and then I was receiving from Karissa.
I have to tell you, I got a little concerned for a minute because I didn't get my ornament until YESTERDAY so I got scared I wasn't going to have something to link up with. But homegirl came through for me :)
She got me this super cute kitty ornament!
(my picture sucks because of my sucky phone camera, but here she is!)
(also, please don't judge me because I had to take this picture on the cutting board in my kitchen with a steak knife right next to it. The kitchen is the only place I can get enough light to take a decent picture with this piece o' crap phone, and I had to use the knife to get into the box...)
Anyways, I LOVE my ornament and can't wait to get a tree up!