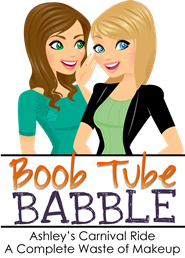 Some of my favorite 90's shows are going to be the focus of this week's Boob Tube Babble post.
Salute Your Shorts: Don't tell me you guys didn't watch this show. It was so HYSTERICAL to me back then. Even now, I am still a huge fan. I even have a Camp Anawana sweatshirt at home. That's right kids, I am a die hard fan.
Legends of the Hidden Temple: This show was pretty dang awesome too. I mean, essentially navigating a temple to find treasure for your team? Doesn't get much better than that. There were the Red Jaguars, the Blue Barracudas, the Green Monkeys, the Orange Iguanas, the Purple Parrots, and the Silver Snakes. Essentially these teams would get eliminated in each round (the moat, the steps of knowledge, the temple games, and finally, the temple run). Ah-mazing. (read about it here)
Bug Juice: This was a reality show on Disney Channel about kids at summer camp. Even back in the 90's I was into reality shows. I probably liked this show a lot because they were kids my age that I could relate to. (Along the same lines, there was Totally Circus, which was only on for a couple months. Children living and traveling with the circus for a summer… pretty freaking sweet).
Are You Afraid of the Dark: This show… man. I STILL watch this show. The Midnight Society would meet and sit around a fire and take turns telling scary stories. Back in the day, they REALLY freaked me out. Not so much now, as I have found since I purchased the seasons on DVD. But, my all time favorite story is still the one where the girl stays with her aunt next door to an empty house that is haunted by the ghost of a little girl who lives in the mirror in her old bedroom (the Tale of the Lonely Ghost).
Zenon Girl of the 21st Century: I was in 6th grade when this movie started showing on Disney Channel. At first I thought for sure I would be made fun of for loving it, but then it turned into a craze. She wore the COOLEST clothes, said the COOLEST words, and lived the COOLEST life. On top of having a pretty sweet life, living in space and whatnot. I watched this movie so many times, I had all the words memorized. I even recorded it from the TV onto a videotape (commercials and all) so I could watch it whenever I wanted. It was THAT good.
This is just a little taste of some if my fave shows from back in the golden years.