I don't think I've ever linked up with The Bargain Blonde before, but I was really just feelin' it today.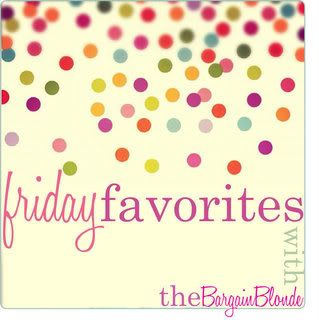 The first thing on my list of faves this week is that I am feeling the Christmas spirit coming on TOUGH. Don't get me wrong, I love to enjoy Thanksgiving and I would never forget about it, but there is just the magical feeling that comes with Christmas.
My next favorite this week is feeling more and more like a real homeowner. It's definitely not all happiness and glory, what with all the bill paying and budgeting. But, however slowly, we are gaining more and more space from my mom moving her stuff out. It's not going COMPLETELY smoothly, but we are beginning to smooth out what we want to do and how we want it to be, which is nice.
As always, my pets are on my list of favorites. My cat being such a freak when I got home from work and she eventually made it into her favorite chair to chase her tail. All of a sudden I hear these god awful noises coming from her and I look over and she managed to attack her tail so ferociously that she had one of her claws stuck DEEP in it, and she couldn't get it out. I felt really awful because she was clearly in some amount of pain, but I also couldn't help but laugh at her.
So there you have it my friends. Those are my favorite things on my mind right now.
I hope everybody has a great weekend!